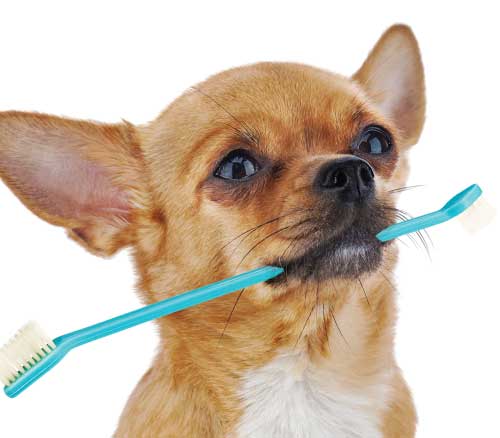 You probably wouldn't think of skipping your oral hygiene routine for a day. Your breath would smell, your teeth might yellow, and you'd risk all kinds of painful (and expensive) consequences: tooth decay, gum disease and even systemic inflammation. Yet so many people ignore this crucial routine when it comes to their pets, even though oral hygiene is just as important for cats and dogs as it is for people.
According to the American Veterinary Medical Association (AVMA), periodontal (gum) disease is the most common health problem that veterinarians find in pets. It's estimated that by age 2, 80% of dogs and 70% of cats have some form of the disease. Untreated gum disease in cats and dogs can lead to diseases of the heart and kidneys, among other serious health conditions.
To prevent gum disease and tooth decay, your pets' teeth should be cleaned daily, or at least several times a week. You can buy special brushes for their teeth as well as toothpaste flavors with unique appeal: like chicken and liver! Don't use toothpaste made for humans, as that could irritate an animal's stomach.
You'll need to get Rover used to the idea of brushing over a period of weeks before you actually try it. This is best done when the animal is very young, but it's never too late. Experts recommend starting out by simply laying out the oral care equipment where it can be sniffed. Then you can progress to rubbing some of the toothpaste on the lips so it can be licked off. Finally, put some on an animal toothbrush and gently scrub the teeth in small, circular motions, lifting the lip as necessary. You'll want to work fast so that your pet doesn't get impatient and rush off before the job is done.
The AVMA has a terrific video on how to brush your pet's teeth. Visit www.avmamedia.org for more information.