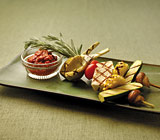 There's a common belief that a change to a more nutritious diet spells the end of one's love affair with food. In other words, if you want to eat in a more healthy way, you have to sacrifice taste.
Annemarie Colbin's life mission is to dispel that belief, and to spread the message that you can eat a diet that's rich in good nutrition and satisfying to the palate. Unfortunately, it hasn't always been easy finding recipes or instruction on preparing wholesome, healthy food — something she discovered over thirty years ago.
The information "famine" Colbin encountered about wholesome food preparation led her to found the Natural Gourmet Institute for Health & Culinary Arts (formerly the Natural Cookery School) in 1977. Based in New York City, the institute's educational philosophy, according to Colbin, is based on "the well-established belief that the food we eat significantly affects our physical, mental and spiritual well-being."
"When I first began learning about wholesome foods, I wanted to share this information with others — so I started teaching people in my apartment kitchen how to cook nice meals with whole grains and beans, lots of fresh vegetables and desserts without sugar or dairy," says Colbin. "In those days we were known as 'health nuts.' Today, though, the principles we were teaching then have begun to enter the mainstream – people are more aware of what's wholesome and what's not."
What began as small cooking classes in Colbin's kitchen (with a few celebrity "students" dropping by along the way — John Lennon, Peter Boyle and Christine Ebersole among them) has become an accredited training program for professional chefs.
The institute graduates about 160 students a year with a curriculum that's mostly vegetarian, although with some included instruction for preparing organic chicken and fish. The institute offers coursework similar to conventional culinary schools, like knife skills, preparation techniques and cuisine styles. What's different, though, is their underlying dependence on "whole" foods.
"We recommend only the use and preparation of natural foods," says Jenny Mathau, director and president of the institute and a huge contributor to its curriculum. "These would include organic legumes, fruits and vegetables, and whole grains seasoned with herbs, spices, sea salt and natural sweeteners. We also teach our students what to avoid, such as refined sugar and flours, and other processed foods."
Many of the institute's graduates have gone on to successful careers as chefs and authors. Institute graduate Eric Tucker is currently the head chef for Millennium Restaurant, an upscale vegetarian restaurant in San Francisco. Alex Jamieson is the author of The Great American Detox Diet and co-star of the award-winning documentary, Super Size Me. And, Bethenny Frankel is the owner and founder of Bethennybakes, a company that produces wheat, egg and dairy-free baking products and custom dietary services for clients.
Training professional chefs, though, isn't the sole focus of the institute. An affiliate school, the Natural Gourmet Institute for Food & Health offers classes to the general public that teaches many of the basics taught to the professionals. The institute also sponsors "Friday Night Dinner at The Natural Gourmet." Every Friday night, patrons pay a set price for a four-course gourmet vegetarian dinner, prepared by the institute's students, alumni and faculty. The Friday night dinners give students a chance to practice what they've been learning, and promote the therapeutic — and delectability — of wholesome cuisine.
Which, for Colbin and her staff, is a key message they wish to convey through the Natural Gourmet Institutes — food that is good for the body should also be celebrated and enjoyed.