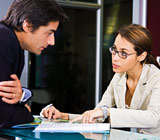 After your dentist gives you the news that you need a dental procedure to restore your good oral health, you may next wonder if the procedure will be covered by your dental insurance. You can most often determine the answer by understanding your policy's coverage.
Or if you've had the procedure and your insurance claim was denied, review your explanation of benefits denying the procedure. Sometimes procedures are covered after you've met a deductible or after an exclusionary period. If the later, this means that your policy has a defined non-benefit period and that the procedure and the cost or a portion of the cost may be covered after the specific timeframe.
Discover more reasons why you should understand your dental benefits in Dental Insurance Coverage.