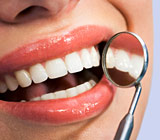 If you have always felt self-conscious about your smile due to misaligned, missing or yellow teeth don't despair, just seek repair! Advances in the field of cosmetic dentistry have made it possible to transform any smile using state-of-the art technology to mend both the structural and aesthetic problems that are causing you concern or possibly even physical and emotional pain.
The smile makeover process begins with a smile analysis, which will determine the overall health of your mouth and teeth and establish your facial balance by noting the shape of your face and lips, your skin tone and your eye color, to name a few parameters. A detailed periodontal examination will provide insight into the state of your bone and gum tissue, and a carefully plotted blueprint will be designed to map out the types of changes that are possible.
Different cosmetic techniques might include teeth whitening, enamel shaping, gum contouring, covering teeth with porcelain veneers, or a combination of several of these procedures. In some cases, orthodontic treatment, using clear aligners rather than traditional metal braces, may be a necessary part of the plan. The amount of time required to completely transform your mouth will depend on several factors, but the end result will be a smile that you are comfortable sharing with the world for a long time to come.
For more information about the various cosmetic treatments that are available, please read the following Dear Doctor magazine articles: