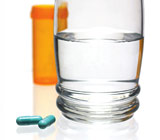 New guidelines from the American Heart Association (AHA) and the American Dental Association (ADA) now state that taking prophylactic (preventive) antibiotics may not be necessary for most people and in fact, might cause more harm than good. Patients who may have taken antibiotics in the past but may no longer need them include people with mitral valve prolapse, in which the heart valves may not work in complete harmony but cause no alteration in blood flow.
Prophylactic (preventive) antibiotics prior to a dental procedure are still recommended for patients with certain congenital heart conditions (birth defects), artificial heart valves, and for those with a history of infective endocarditis—where there is a risk of turbulent blood flow and infection from oral bacteria. See your doctor or cardiologist to find out if you need to take antibiotics before dental treatment.
Learn more about this important topic in Antibiotics for Dental Visits.