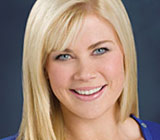 As host of the hit television series The Biggest Loser, Alison Sweeney serves as an inspiration for self-improvement. In the latest issue of Dear Doctor – Dentistry & Oral Health, the actress, author and mother of two young children talks about her own path toward fitness, and how a frank conversation with her dentist led her to change her eating habits, shed pounds and lead a healthier life. Now that she's a 34-year-old mother of two young children, Alison is hoping to share what she has learned about health and fitness with new moms. Her recently published book, The Mommy Diet, has lots of helpful suggestions on how pregnant women and those who have recently given birth can take better care of themselves.
This issue also includes important information on managing tooth decay in children with special needs and disabilities. Good dental health is particularly important for these youngsters, yet maintaining good oral hygiene routines can be challenging for them and for their parents and caregivers.
You will also find out why and how children's teeth are saved with root canal treatment. Though you might think it's no big deal if a baby tooth comes out prematurely, the fact is that primary teeth provide important guides for the newly developing permanent teeth that will replace them. If baby teeth are lost too soon, bite problems can easily result.
Other topics covered in this issue include: