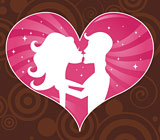 It doesn't matter if you are giving your 5-year old, your spouse, or your significant other a Valentine's Day kiss, no one wants to kiss or be kissed by anyone with bad oral hygiene. In fact, you should always keep your mouth healthy and attractive by brushing at least twice a day with toothpaste containing
fluoride
and flossing at least once daily. Another tip is to reduce the amount of sugary and acidic food and drinks you consume like candy, sodas, and sports drinks. Instead, eat a
well balanced diet
of lean proteins, complex carbohydrates,
healthy
fats, fresh fruits and vegetables, nuts, and fiber. And if you feel the need for gum or a mint to freshen your breath, be sure to select products with xylitol, as studies have proven that it actually reduces your odds of getting cavities (tooth decay). Lastly, drink plenty of water (preferably
fluoridated
), as dry mouth is one of the key causes of halitosis (bad breath).
Learn more about dentistry by reading the following articles: