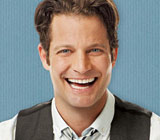 Nate Berkus has been one of America's most sought after interior designers since his first appearance on the Oprah Winfrey show eight years ago. His desire to help people love their homes and his ability to create living spaces that provide clients with a sense of serenity are just two of the reasons that Dear Doctor – Dentistry & Oral Health chose to feature him on its latest cover. He attributes his all-natural smile to the fluoride treatments and sealants he received as a child and his unwavering commitment to healthy oral hygiene practice ever since.
This issue also includes a feature story on sleep disorders and advances in the field of dentistry that can be used to treat conditions including sleep apnea and sleep-related breathing disorders. The article provides a side-by-side comparison of oral appliance therapy and the continuous positive airway pressure (CPAP) sleep mask. If you or your partner is frequently disturbed during the night due to snoring, this article might be your ticket to a restful night's sleep.
Also, meet the latest winner of our Ultimate Dental Health Makeover Contest, Heather Manning. Heather will receive a smile makeover with the help of Dr. Eric Burgess and Dr. Robert Karol, who have indicated that her smile redesign will include periodontal treatments, implants to replace missing teeth and cosmetic and restorative dentistry.
Other topics covered in this latest issue include: