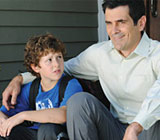 Teen TV star Nolan Gould has a lot to say about life on and off the Modern Family set in the latest issue of Dear Doctor – Dentistry & Oral Health. To keep his smile camera-ready, Nolan has spent lots of time in the dentist's chair and is happy to report excellent treatment results. And he is so meticulous about his own oral hygiene that he has reached age 13 without ever having had a single cavity! Our exclusive interview with this young actor kicks off a special section devoted to kids' oral health in celebration of National Children's Dental Health Month.
Learn how to get your child started on the road to a lifetime of oral health with our comprehensive overview of Dentistry and Oral Health for Children. This feature article provides a wealth of information on milestones and transitions in your child's dental development, from the eruption of the first baby teeth to the removal of the last wisdom teeth. A must-read for all parents!
Many parents wonder what to do When Children Grind Their Teeth. This habit is so common in kids under age 11 that it is often considered normal behavior — unless it causes severe tooth wear, pain, or trouble sleeping. We review what is known about the possible causes of the habit known as "bruxism" and when to consider seeking professional help for your child.
For families facing decisions about orthodontics, we offer an update on Clear Aligners for Teenagers. This advanced dental technology, originally geared toward adults, has recently evolved to treat a greater variety of bite problems in younger people.
Adults with or without children will be interested to learn how dentists are Creating In-Office Dental Restorations With Computers. It used to be that if you needed a crown, you had to wait weeks for an off-site dental laboratory to do the work and send the finished product back to your dentist. Now, with an exciting digital technology known as Computer-Aided Design/Computer-Aided Manufacturing (CAD/CAM), some dentists are fabricating high-quality restorations themselves right in their own offices — in minutes!
Other topics covered in this issue include: