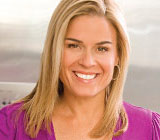 Cat Cora, the first and only female Iron Chef, has built her culinary reputation by blending her Southern and Greek heritages into a tasty recipe for better living. In the latest issue of Dear Doctor – Dentistry and Oral Health, the television star, author and mother of four little boys shares her best tips for making favorite dishes healthier without sacrificing flavor. Cat also offers advice on how parents can help kids make better food choices. And she gives us a sneak peek at the new show she is developing for the Oprah Winfrey Network.
This issue also includes the most complete overview of artificial sweeteners you'll find anywhere. Dear Doctor takes a detailed look at what's really in those pink, yellow and blue packets of sugar substitutes and their effects on oral and systemic (whole-body) health.
You will also discover the hidden consequences of losing teeth. It's important to realize that even one missing tooth can lead to bone loss that is preventable with dental implants.
Other topics in this issue include: